Oxford Community Market Goes To College: Campus Farmers' Market
An Oxford Community Market Event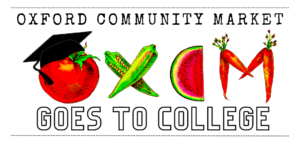 Thursday, April 21st, 11:00-2:00 PM on Business Row (Galtney-Lott Plaza)
The Oxford Community Market is hosting a campus Farmer's Market! This market is an opportunity to promote local, sustainable food to students, faculty, and staff. As a part of the Office of Sustainability's Green Week celebration, this event serves the purpose of bringing together the Oxford community to promote awareness about food choices and the food industry, and why it matters.
With over 15 different vendors, participants can expect to find a variety of seasonal produce, baked goods, and sweet treats; all while winning prizes and learning about local foodways from our community experts!
How To Participate
Volunteer: Volunteers are needed throughout the event. Volunteers will help facilitate set-up, tear-down, or market activities (i.e. games and promotion) depending on which time they choose to volunteer. All volunteers will be given an Office of Sustainability lanyard and Green Week tote bag as a token of our appreciation.
10:00-11:00 AM Shift: Event Set-Up
11:00-2:00 PM Shifts: Event Facilitation
2:00-3:00 PM Shift: Event Tear-Down
Table: Join us for this year's Farmers Market by using this Google Form to reserve your table. Email Kathryn Kidd at krkidd@olemiss.edu or call the Office of Sustainability at 662-915-3442 for more information. Please reserve your spot by Friday, April 8th.
Attend: All campus and community members are welcome to attend the Oxford Community Market Goes To College event! Come buy your favorite local goods from our lovely farmers, bakers, and community leaders. A majority of vendors accept cash, card, and/or Venmo.
Don't want to spend any money? That's ok! There will be plenty of opportunities to learn about local foodways from our vendors and win prizes as well.
About the Vendors
Visit the OXCM Website for more details & vendor stories
Mr. Stark Aldridge: Farm fresh eggs, homemade jams, jellies, and more.
Kims' Gourmet Corner: Home-made banana bread, lemon pound cake, turtle cheesecake, peanut butter cups, turtles, Mr. Goodbar, almond joy, payday, caramels, and lemonade!
Oxsicles: Locally made, all-natural, handcrafted popsicles!
Harris Family Farm: Homegrown plants, homemade bread, and handmade pottery.
Athena Coffee Roasters: Hot coffee, cold brew, and roasted coffee beans!
Live Again Events, LLC: Homemade pound cakes and cookbooks
RebelWell: Food Demo utilizing the RebelWell mobile kitchen cart. Passing out free samples!
Mardi Honey: Selling Mardis Honey, 100% pure, raw, & local honey
Cypress Bread Co.: Fresh rustic bread and specialty croissants.
Southern Sweets & More: Homemade-backed goods.
Falkner Farms: Grass-fed and finished beef and pasture-raised eggs.