Green Week Exhibits
Since 2014, the Office of Sustainability has created an educational exhibit that is placed in a high-traffic area of campus to reach audiences that may not otherwise engage with Green Week programming. Scroll down to read about past exhibits.
2017 Exhibit – A Littered Landscape
The exhibit "A Littered Landscape" highlighted the impact our actions have on the environment. The exhibit featured an original photograph of a natural space which was covered with campus trash throughout the week. The artist, recent UM graduate Anna Brigance, urges people to think about what steps they personally can take to reduce their impact on the environment.
2016 Exhibit – Food For Thought
The "Food for Thought" exhibit illustrated the varying effects of food waste on the environment as well as personal choices individuals can make to mitigate these effects. The exhibit tank was separated into three sections, each representing a tier of the Food Recovery Hierarchy, which indicates the best ways to prevent food waste. The sections in the exhibit showcased the effects of landfilling food, composting food and source reduction, or reducing the volume of surplus food that is thrown away.
2015 Exhibit – Trash Tank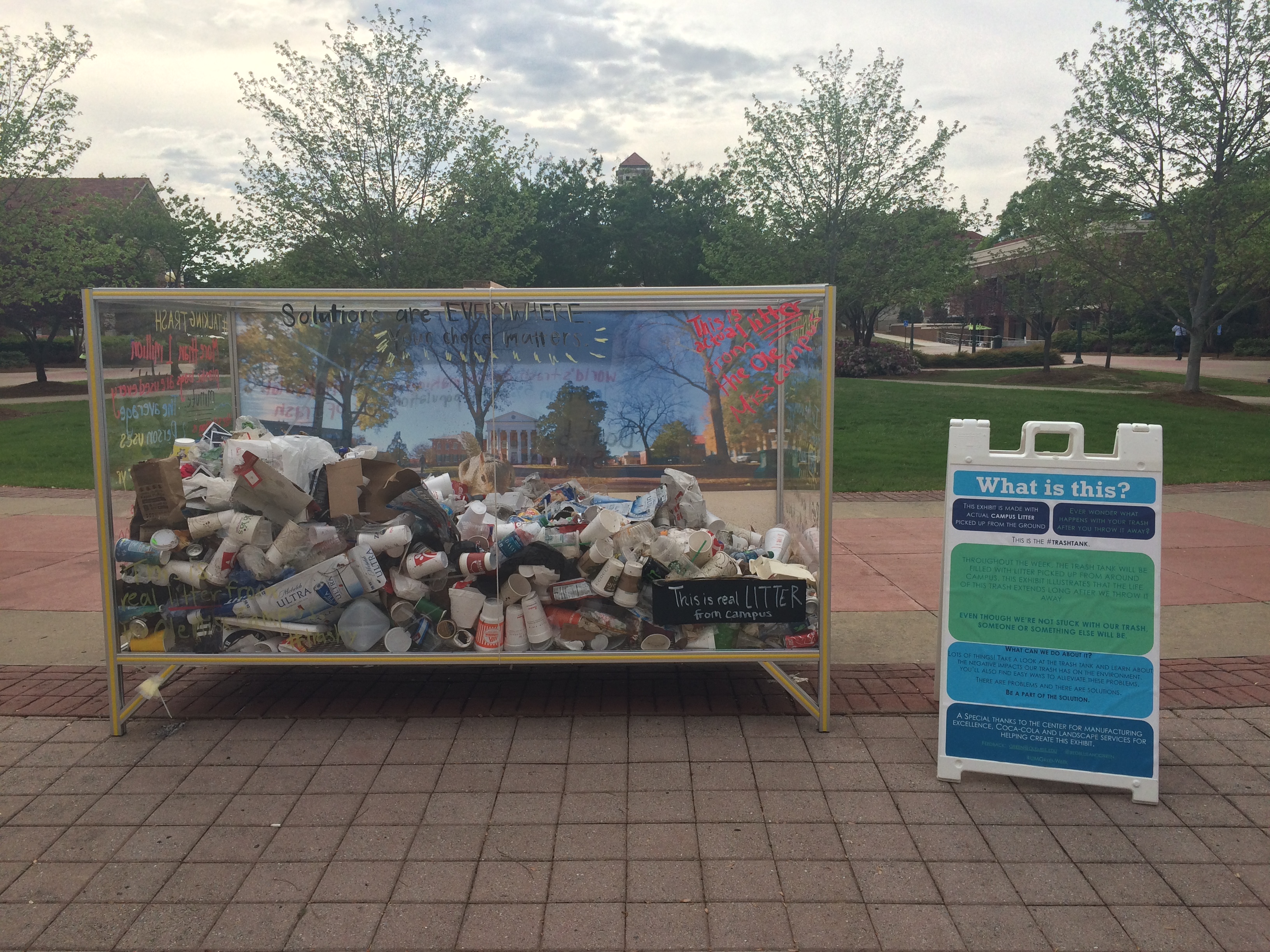 The "Trash Tank" exhibit was constructed with help from the Center for Manufacturing Excellence to illustrate the amount of litter disposed of improperly on the University of Mississippi campus. Because Landscape Services employs individuals to pick up litter, students don't always realize that this is a problem. Landscape Services employees filled the tank through the week with real campus litter, and volunteers sorted the recyclables from waste at the end of the week.
2014 Exhibit – Consumption Cube
The "Consumption Cube" was a 9 foot by 9 foot cube covered in trash and designed to raise awareness of how our habits and consumption create a large amount of waste. The cube informed students with a visual of the amount of waste created on the campus, state, nation and planet. Messaging on the cube offered wide range of sustainable solutions to reduce the amount of waste we generate from recycling on campus and in the residence halls, curb side recycling with the City of Oxford and even submitting project proposals to the Green Fund.   
Have an idea for a Green Week exhibit? E-mail green@olemiss.edu.