2021 Green Week Virtual "Sustainability Fair"
During this year's Green Week (April 19-23), the Office of Sustainability is hosting our annual Sustainability Fair. Our Virtual Guide to Sustainable Living provides an information space for renewable energy and sustainable products, services, and ideas.
Local Businesses
The spotlight for our 2021 virtual sustainability fair focuses on local businesses that provide ethically sourced products and services. The overall mission of these vendors is to find the balance between growing business locally as well as growing local knowledge and practice of sustainability.
Oxford Community Market (OXCM) Oxford Community Market is a nonprofit organization focused on food access. Featuring local vendors, OXCM works to provide locally and sustainably sourced foods to the Oxford community–increasing food accessibility, decreasing food insecurity and establishing connections between local businesses and community members. Find them locally every Tuesday from 12-3:00pm at the Old Armory Pavilion.
Oxford Recycling Residential drop-off locations are available to community members through the City of Oxford recycling program. Bins are available for Aluminum and Steel Cans, Mixed Paper, Newspapers, Cardboard, and Plastic.
Yokna Bottom Farms*

Yokna Bottom Farms provides quality produce while also working towards food stability in our local community.

Brown's Farm*

Brown's Farm is a great example of local, sustainable agriculture. Sourcing most of what they need from their own farm and recycling throughout the years, they are able to produce nutrient-rich produce that helps the environment as well as the consumer. 

Oxsicles*

Oxsicles sells handcrafted ice pops made in Oxford, MS. Oxsicles promotes fresh, all natural ingredients, that are locally sourced whenever possible! 

Mardis Honey*

Mardis Honey produces local honey sourced in Oxford and Taylor, MS. They are also a great resource for beekeeping education and outreach.

Delta Grind Grits*

Since 2001, Delta Grind has been a small, friendly family-run business which produces an all natural product. Delta Grind gets corn from local growers in Mississippi to ensure product consistency and to support local farmers.

Native Son*

Native Son became "Certified Naturally Grown" in 2011. The 20 acre farm is based in Tupelo, Mississippi and works to ensure to customers that their food is grown in a manner that promotes soil health and natural methods of pest and weed control.

Poultry in Motion*

Poultry In Motion provides organically raised produce, artisan breads, home-made pickles and jams, and hand-crafts. 

Samsara Garden*

Samsara Garden is a small-scale sustainable market garden providing high quality vegetables using organic practices to folks in the North Mississippi area. 
*Weekly Vendors at Oxford Community Market (OXCM)
Campus and Community Action
Community action is a great way to engage in a collective effort to promote sustainability. Below are local Lafayette, Oxford, and University (LOU) groups promoting sustainable action. This is also a great way to get involved and to engage in meaningful conversation and action, all while helping the environment.
Hill Country Roots Hill Country Roots is a community-oriented tree-planting group in Oxford, MS. HCR members plant trees to mitigate the impacts of clear-cutting in the Lafayette area. This work is fueled by a desire to preserve Mississippi's forests and native trees, beautify Lafayette County, provide shade and opportunities for hands-on environmental learning and volunteering. For more information, visit ForUM.
Real Food Rebels Real Food Rebels is a student organization advocating to increase access to real food on campus— food that is local, humanely raised, ecologically sound, and fair trade.
Flower of Life Food Rescue Flower of Life Food Rescue is a grass-roots organization aimed towards alleviating food insecurity and promoting social justice in our local communities
Green Grove The Green Grove Program at the University of Mississippi is a popular, volunteer-driven program that aims to incorporate recycling into the game day experience. This is done by engaging and educating tailgaters in the Grove and Circle. Through the program, the university also aims to decrease the amount of waste that ends up in landfills as a result of tailgating.
Grove Grocery The University of Mississippi Grove Grocery seeks to end campus hunger and alleviate poverty by discreetly providing nutritious food products and hygiene products free of charge to students and employees in the Ole Miss community.
Garden Club The UM Garden Club was established September 7, 2015. Members grow fresh produce for themselves and for the UM Grove Grocery.
UM Beekeepers UM Beekeepers is a student led organization that promotes the study and safe keeping of honeybees. For more information, visit ForUM.
Citizen Climate Lobby Oxford Chapter Citizens' Climate Lobby is a nonprofit, nonpartisan, grassroots advocacy organization empowering people to experience breakthroughs exercising their personal and political power. "We are working for the passage of Carbon Fee and Dividend, the climate change solution economists and climate scientists alike say is the "best first-step" to preventing the worst impacts of a warming world."-

Citizens' Climate Lobby Oxford Chapter
Rebel Well RebelWell is a campus and community wellness program designed to support employees as they adopt and sustain behaviors that reduce health risks, improve quality of life, and enhance personal effectiveness.
Personal Action
While sustainability is an important commitment for institutions, communities and corporations to take, it can also be incorporated into individual daily living. See the list below for 8 easy, affordable, and accessible ways to support sustainability efforts. P.S. If you do any during Green Week (April 19-24), don't forget to tag OoS!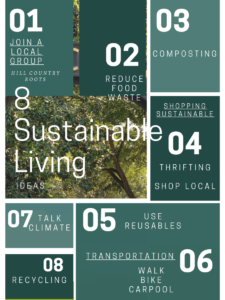 Composting

Composting is an easy and fun way to reduce and dispose of food waste and repurpose it into a nutrient-rich medium. You can even use your compost as fertilizer for a garden!

Recycling

Recycling your paper and plastic on campus is easy with conveniently placed recycling bins in all academic buildings. You can even recycle your household items by collecting and dropping them off  at one of the drop-off locations in Oxford.

Reusables

Though recycling is important, the best way to reduce waste is to find ways to prevent generating it in the first place. Reduce your use of single-use plastics with metal straws, reusable silicone bags for storing food, and fabric bags for shopping at the grocery store. Carrying a reusable water bottle is both easy, safe and reduces waste. Studying for finals? The next time you go to Starbucks, try using a reusable coffee container.

Shopping Sustainable

The clothing industry comprises a significant portion of environmental emissions. Reduce your contribution by shopping locally and by holding producers accountable for unethical practices. Thrift shopping is also a great way to find awesome vintage and trendy clothing, reducing your cost and carbon footprint.

Join a local chapter of a group

Local groups are a great way to get involved in environmental advocacy and are also a great way to get community service hours. 

Groups such as Hill Country Roots, Flower of Life Food Rescue, Grove Grocery, and Real Food Rebels are all great organizations to support and join.

Reduce Food Waste

Food waste, especially on college campuses, is a significant contributor to landfill wastes. Reduce your negative impact by meal prepping and reducing consumption of non-compostable foods such as meat and dairy.

Talk Climate

Discussing climate change, environmental concern, or sustainability practices with family, friends, and professors is a great way to de-stigmatize the subject among your circle of influence.

Eating Less Meat

Just as in any consumer market, there is a cost to production. For the food industry and the diets that we maintain, this cost affects a cycle of production. When examining the energy it takes to grow, harvest, transport, and prepare food, vegan and vegetarian diets are those most energy-efficient and therefore lowest in greenhouse gas emissions. Meat and fish production are tied as the least efficient with large amounts of grain, water, and land often used and destroyed in order to supply the demand of the nation's most popular diet.

Eating less meat or no meat at all

is a great way to mitigate these emissions and provides for a healthier lifestyle overall.